Bowing Wall Repair in Indianapolis and Central Indiana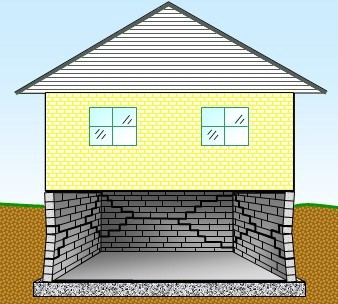 From the weight of the house to shifting soil conditions & hydrostatic pressure, the foundation of your home continually deals with pressure from all sides. When outside pressures become too much for the foundation, your home will respond with a variety of problems that include bowing walls in the basement. Americrawl specializes in foundation repair services that include bowing wall reinforcement and more for our customers in Indianapolis, Lafayette, Bloomington, and other cities throughout our service area in Central Indiana & throughout the Midwest. 
Heavy backfill such as clay can create a great deal of pressure on foundation walls, with its weight pushing on the sides of walls and causing them to buckle inward. Basement walls will usually begin to bow before you can see any cracks. This bowing is sometimes difficult to see, but any bowing at all is an indication of a weakened structure. Bowing of basement walls is a serious problem and must be addressed before the problem becomes irreparable. We can help with that.
Bowing Basement Walls "Horizontal Deflection" Repair
Not only does Americrawl provide superior bowing wall reinforcement & repairs, but our certified craftsmen also provide services for basement waterproofing, crawl space repair, foundation repair, sump pump installation, and other moisture control services. To learn more, give us a call at 463-218-6767 or click here to set up an appointment with a service technician today!
Early Signs of Bowing Walls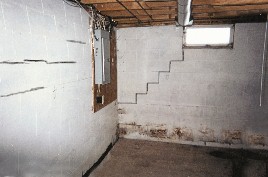 Cracks in the walls that are bigger at one end
Stairstep cracking.
Floors that are not level.
Doors, cabinets, and windows that do not shut properly.
Cracking in the upstairs plaster and/or drywall.
Cracking in the exterior brickwork and or caulking.
Leaning of outside chimneys and or porches.
Indiana Flood Victim Warning
If your foundation walls are bulging in response to area flooding, they may be at the risk of collapse. Do not delay in seeking expert advice in this situation! Americrawl's inspectors are trained to help you with bowing and buckling foundation walls.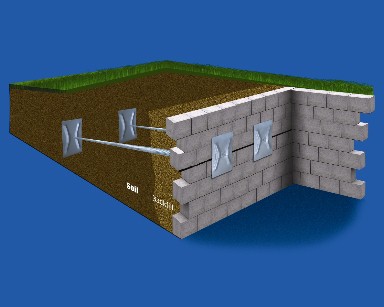 Trust ECP® Wall Anchors | Indianapolis & Central Indiana
The ECP® Wall Anchor System was developed by the innovative design team of Earth Contact Products in conjunction with engineers and tradesmen who became frustrated with the flaws and weaknesses of other wall anchor systems and repair methods. ECP® Anchor Systems utilize proven engineered methods to secure and stabilize basement walls experiencing horizontal deflection, or "bow in." Other methods such as carbon fiber, pilasters, and I-beams do not provide any appreciable lateral resistance to soil pressures.
When you are ready to upgrade to an ECP® Wall Anchor System, our crews at Americrawl can help. Call 463-218-6767 to learn more or click here to schedule an appointment ASAP with a service technician.