Basement Waterproofing & Crawl Space Repair in Greenwood, IN
It's critical to take immediate action if you notice problems with your basement or crawl space. Leaks, cracks, and ultimately moisture can cause major issues like mold growth, structural damage, and a decline in property value.
For professional basement waterproofing and crawl space repair services, Americrawl is your local go-to company in Greenwood. We use the latest techniques and materials to address your specific needs, ensuring that your home is safe, dry, and protected. To meet your unique demands, we employ the best methods and equipment, guaranteeing that your property is cleaned, and insulated. To learn more call us at 463-218-6767 or request a Free Estimation.
Additional Services from Americrawl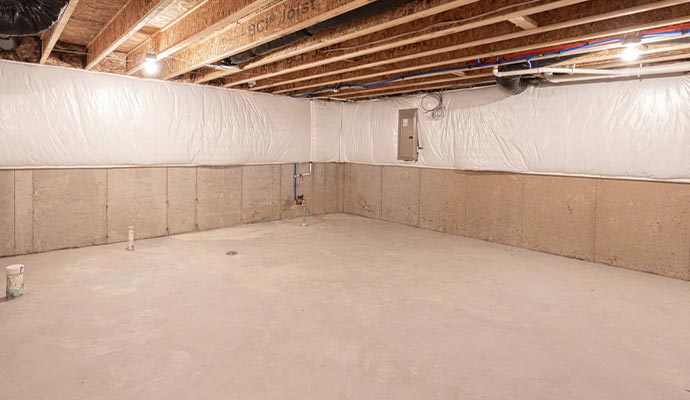 Foundation Repair: Our foundation repair is an essential service that helps homeowners maintain the structural integrity of their homes. Depending on the severity of the damage, the repairs may include foundation crack repair, leveling, and stabilization of the foundation
Sump Pump Installation: For the protection and preservation of your basement, we provide skilled sump pump installation services. Our knowledgeable professionals will evaluate your unique requirements and install the best pump for your house. You can rely on us to offer an effective and dependable solution to keep your basement dry.
Moisture Control: To avoid harm to your house or place of business, we offer professional moisture control services. For a dry and healthy interior atmosphere, our staff uses the most recent techniques to locate and remove any extra moisture.
Keep Your Basement & Crawl Space Healthy & Water-Free with Americrawl
Since 1993, we at Americrawl have focused on ensuring that all of our clients are completely satisfied. We are a family-run business that aims to offer homeowners quality services in Greenwood. At Americrawl, we have gained years of hands-on experience and a reputation for successfully becoming the top basement waterproofing and crawl space service provider.
If you need our assistance, feel free to call us at 463-218-6767