Interior Drainage Systems in Indianapolis & Central Indiana
Basement drains come in a variety of forms and sizes, some of which are far more effective than others at keeping your basement dry and functional. If your basement has been flooded and outside waterproofing isn't an option, an interior drainage system can help you avoid further flooding and water damage. It is essential that these issues not be overlooked.
Americrawl is the company to rely on for interior drainage systems in Indianapolis, Lafayette, Bloomington, and other cities throughout our IN service area. An interior basement drainage system will contain an interior drain tile system to catch and re-route water as it enters the basement. The captured water is removed from your home by a sump pump, which is part of the tiling system. Call us at 463-218-6767 or contact us online to learn more about our interior drainage system installation and more basement waterproofing options.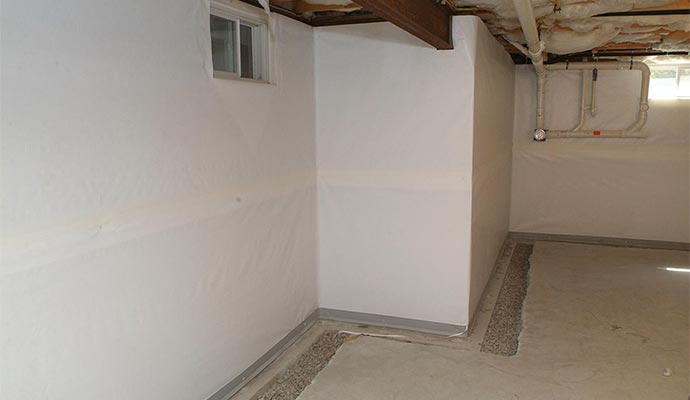 Why Americrawl for Interior Drainage Systems?
An interior drainage system should be installed along your basement walls to capture water at the most common location of basement entry, the floor and wall joint. Advantages of an interior drainage system include:
Our patented internal drainage systems are clog-resistant.
An interior system is less expensive than an exterior system.
The majority of installations may be finished in two days or less.
In any conditions, it may be installed and serviced all year.
It is a long-term solution when correctly installed.
Installing an interior system is far easier than installing an exterior system, even if you have a finished basement.
Choose Americrawl For Interior Basement Drainage in Danville, IN
Americrawl has your reliable, advanced interior drainage system solutions. We'll solve any basement waterproofing issue and help you detect the source of standing basement water and eliminate it. We're dedicated to best results and your complete satisfaction. Call us at 463-218-6767 to install an interior drainage system on your property. Contact us online to arrange a consultation and ask about our free estimates.