Basement Waterproofing & Foundation Repair in Greencastle
When it comes to maintaining the structural integrity of your home, basement waterproofing, crawlspace repair, and foundation repair are essential services to consider. Whether you're dealing with a damp basement, a compromised crawlspace, or foundation issues, these professional solutions can provide peace of mind and protect your home from potential water damage, mold growth, and structural instability.
At Americrawl, we use state-of-the-art techniques and our dedicated team is committed to safeguarding your property, ensuring a dry and secure environment for you and your family. Don't let moisture or foundation problems decrease the stability of your home. Trust our comprehensive range of basement, crawlspace, and foundation services to fortify your property and preserve its long-term value. Call us at 463-218-6767 or contact us online to get our services in Greencastle.
Services Offered by Americrawl in Greencastle
At Americrawl, our wide array of services for residential & commercial customers in Greencastle and its surrounding communities includes: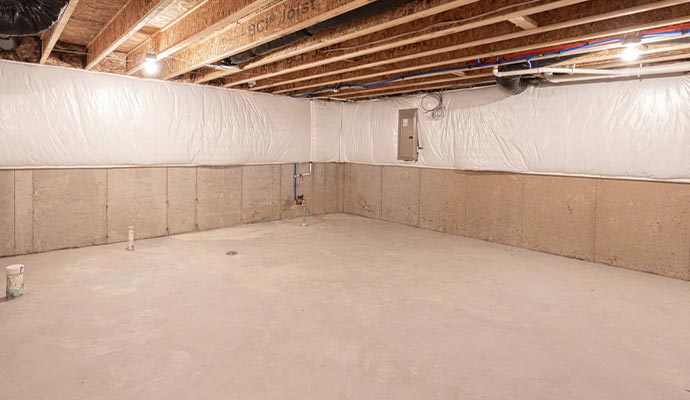 Risks of Not Opting for Americrawls's Services
Possibility of Structural Deterioration: Water damage can cause severe structural damage to your home, compromising its safety and integrity.
Increased Risks to Health and Safety: Moisture and mold growth can lead to several health hazards such as allergies and respiratory illnesses.
Potential for Decrease in Home Value: Failure to undertake proper waterproofing can devalue your home, making it challenging to find potential buyers.
Let Americrawl Make Your Basement Waterproofed in Greencastle
When it comes to ensuring the longevity and structural integrity of a home, the importance of basement waterproofing, crawlspace repair, and foundation repair services cannot be overstated. These essential services address underlying issues such as moisture infiltration, water damage, and foundation instability, safeguarding the property from potential hazards and costly repairs down the line.
Whether it's preventing water damage, improving indoor air quality, or reinforcing the foundation, Americrawl provides crucial solutions that promote a safe and durable living environment for years to come. Call us at 463-218-6767 for a free estimate and inspection in Greencastle.