Dehumidifiers Installation in Indianapolis & Central Indiana
Everyone wishes to live in a dry and healthy atmosphere. At Americrawl, we deliver dry basements and crawl spaces for our customers because we install dehumidifiers that work! Through a natural phenomenon known as the stack effect, almost 40% of the air you breathe on the first level of your house originates from your basement or crawl space in Greenwood, Bloomington, Terre Haute, Indianapolis, Carmel, and other cities throughout our service area.
If those areas are filled with heavy humid air, the same will be true of your home or office. Fortunately, the installation of dehumidifiers is part of the wide array of moisture control services offered by Americrawl to keep you comfortable and boost the indoor air quality at your home or office in Noblesville, Lafayette, Bloomington, Fisher, and other cities we serve throughout Central Indiana. In addition to the dehumidifier, we also can install a vapor barrier to keep moisture from entering through walls, ceilings, and floors. Other moisture control services we offer include basement waterproofing, crawl space repair, foundation repair, and sump pump installation. To learn more, call us at 463-218-6767 or click here to schedule an appointment to install your dehumidifier today! 
Benefits of Dehumidifiers by Americrawl in Indianapolis & Central Indiana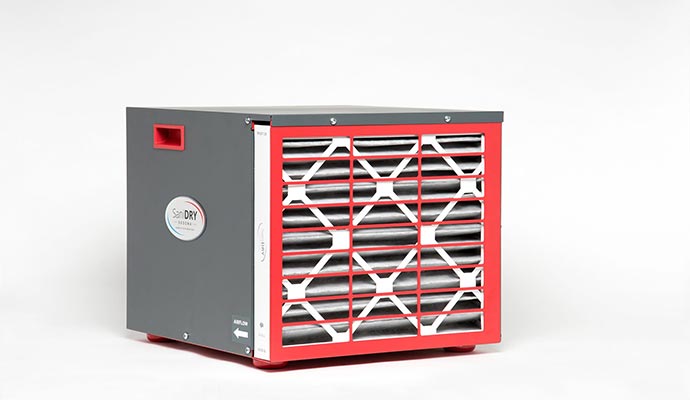 Here are a few benefits of our dehumidifiers:
Comfort: By removing the excess humidity from your indoor air, you will enjoy a comfortable environment and boost your indoor air quality.  You will no longer feel hot and uncomfortable.
Decreased Electricity Bills: Lower indoor humidity means your HVAC unit won't have to work as hard, which will save you money on your energy bill!
Moisture Control: Excess moisture in your house may cause paint to bubble, mold, warp furniture, and water damage to walls and floors. A dehumidifier will stop these issues.
Deodorizing: Mold, rot, and fungal development thrive in damp, warm environments. Adding a dehumidifier can eliminate such odors.
Reduced Dust: Dust can be reduced by using a dehumidifier. It will also decrease allergens such as dust mites, mold, and mildew.
Dehumidifiers We Offer
We know each client has different needs for their home's dehumidification which is why we offer two great options for your dehumidification needs.
SaniDry™CSB - For Dehumidification, Mold & Allergen Control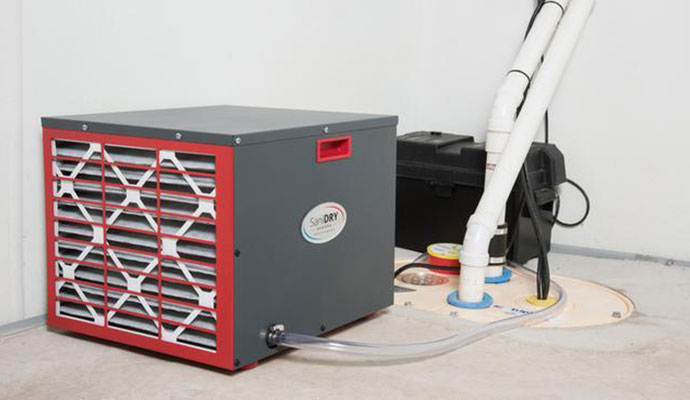 Dehumidification is absolutely necessary for removing excess moisture from the air and making your home free of mold and mildew. In general, mold will not grow at less than 50% relative humidity. Nor can dust mites—the number one allergen—exist in less than 50% relative humidity, as they "drink" necessary moisture by absorbing it through their skin.
SaniDry Dehumidifier and Air Filtration System
The SaniDry Basement and Crawl Space Dehumidifier and Air Filter will keep your foundation below 50% humidity and eliminate damp, musty odors by drying and filtering the air. It utilizes a powerful blower to draw in the "bad" air, and then release it as dry, clean air back into the same, or redirected, space. The SaniDry Air System removes three times the water from the atmosphere as a typical dehumidifier, yet uses the same 6.8 amps of energy. And it will automatically drain the collected water via a hose, so it never has to be emptied.
The SaniDry Dehumidifier and Air Filtration System has 10 times the cold surface area of an average dehumidifier and a unique heat exchange core, making it ultra efficient. The powerful 100-pint and 90-pint models will provide clean, conditioned crawl space air that will give you peace of mind.
Reasons to Choose Americrawl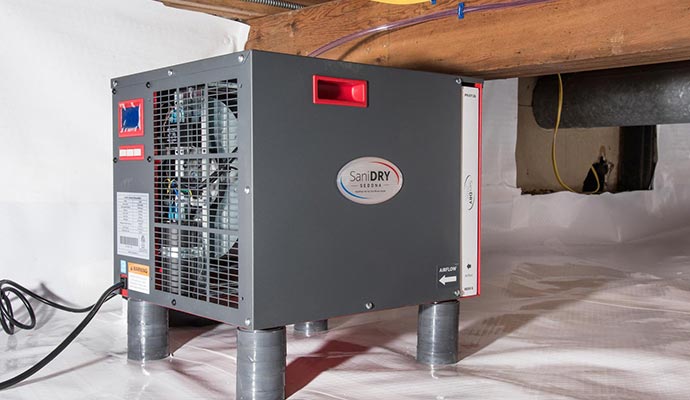 Here are a few reasons to choose us:
Unsurpassed knowledge
Experience
Customer-driven
Quality conscious
Service-oriented
Meticulous work
Moral integrity
Free estimates
Warranties
Legally straight & fully insured
Flexible payments
Community-minded
Dehumidifiers can keep your home in a comfortable condition. So let experts of Americrawl help you with our famous dehumidification service. We also have many other services to offer like mold removal, dry rot, moisture prevention, and other services! To learn more, click here to schedule an appointment or call us at 463-218-6767 for more information today!
Dehumidifiers F.A.Q.
Does my basement need a dehumidifier?
A dehumidifier is a device that can help keep your basement or crawl space dry by removing moisture from the air. It reduces musty odors, prevents mold growth, and keeps the whole area dry.