Crawl Space Encapsulation Process in Indianapolis
Crawl space encapsulation is a process that involves sealing off your crawl space from the outside environment. By doing so, you can prevent moisture, mold, and pests from entering your home. Americrawl, a family-owned and operated company serving Indiana since 1993, offers crawl space encapsulation services to both homeowners and businesses.
With a focus on quality and affordability, Americrawl's encapsulation services can save you up to 50% over other methods. Plus, we offer free estimates on the overall encapsulation process so that you can make an informed decision about the best solution for your crawl space. Call Americrawl today at 463-218-6767 to learn more about our crawl space encapsulation process and how it can benefit your home or business.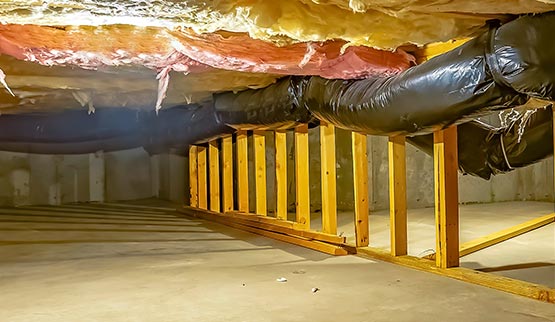 Benefits of Crawl Space Encapsulation
Crawl space encapsulation is a process of sealing and insulating the crawl space under a home. Here are some of the benefits of encapsulation:
Improved indoor air quality: Crawl space encapsulation helps prevent the growth of mold, mildew, and bacteria, which can cause respiratory issues, allergies, and other health problems.
Increased energy efficiency: Encapsulating the crawl space can help reduce energy costs by preventing air leaks and improving insulation.
Reduced moisture: By sealing the crawl space, moisture levels are reduced, preventing structural damage and extending the life of your home.
Pest control: Encapsulation can help prevent pests such as rodents and insects from entering the crawl space.
Encapsulate Your Crawl Space Employing The Best Process
Our process combines thorough inspection, cleaning, advanced vapor barrier installation, top-quality insulation, and efficient ventilation systems. With our industry-leading encapsulation process, you can enjoy unparalleled results, superior air quality, enhanced energy efficiency, and long-term safeguards against moisture problems. We will work relentlessly to make the job done to your peak satisfaction. Apart from crawl space encapsulation, our other crawl space services include the following:
Whatever your crawl space needs, just call us at 463-218-6767 or click here to get the best service in the industry.
Click Here to Contact Us Online