Foundation Repair in Indianapolis & Central Indiana
Foundation Wall Cracks, Settling "Vertical Deflection"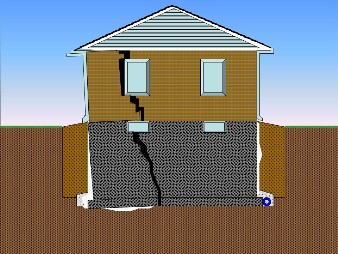 A house is only as strong as its foundation. But regardless of how well-built your house is, poor soil conditions, changing seasons, and moisture in the soil around your house will stress your home's foundation by expansion and contraction of the soil. When the earth below the foundation is of different densities, the foundation can crack and settle unevenly. In Indiana and throughout the Midwest, foundations and soil types may differ from region to region.
If you've noticed the floors creaking, windows and doors sticking, or you see water in your basement, it's possible that you've had movement in the foundation. In that situation, your best move is to contact Americrawl immediately for foundation repair solutions that fit your needs and your budget. Americrawl is a family-owned and operated company that provides the best available basement waterproofing, crawl space repair, sump pump installation, and other moisture control services in addition to our unmatched foundation repair services. We serve customers in Indianapolis, Lafayette, Bloomington, and other cities throughout our service area. To learn more, dial 463-218-6767 or click here to set up an appointment with a service technician today!
Solving The Problem of a Damaged Foundation with Americrawl
At Americrawl, years of hands-on experience and aggressive education in crawl space and basement science have resulted in unsurpassed solutions. Our vast storehouse of advanced methods and proven installations provide custom remedies for every foundation imaginable. Patented systems include a Lifetime Transferable Warranty that applies to the home, regardless of ownership change. We look forward to giving your foundation a "physical," and curing your crawl space and basement headaches with an applicable treatment.
We Can Stop Foundation Settling Issues in Indiana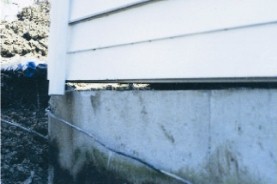 When water seeps into the ground around the foundation and builds up, it's called hydrostatic pressure. The higher the water column up against the foundation, the more weight and pressure it causes. This water expands and contracts the soil drastically, which continually adds and takes away pressure on your walls. As hydrostatic pressure increases, water will enter your basement any way it can, seeping through porous concrete and block wall foundations, working through cracks, seeping through the wall joint, and entering your basement. The swelling of the soil under your foundation will actually lift up your house!
When water dries out around your foundation, the house will settle down again, sometimes further than its original position, causing serious foundation damage. The pressure against your wall decreases dramatically and the soil shrinks. This expansion and shrinking create lateral pressure on the basement walls that can create horizontal cracks across the midpoint of the wall and will weaken the walls.
In some cases, the soil is both wet in some areas around the foundation and dry in others. When this happens, pressure on your basement walls from the outside is unevenly distributed, forcing strain on some walls or sections of walls more than others and causing cracks.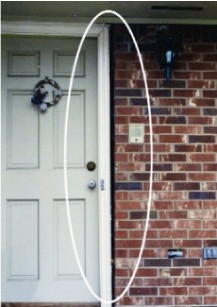 Americrawl Stops Foundation Cracks at Your Property
Many homeowners find cracks in their foundation walls long after they've formed. These homeowners can become very distressed, thinking that the crack has suddenly appeared. While that may not be the case, it is important to treat all wall cracks as potentially serious problems until they've been assessed by a professional.
Cracks tend to form most often at weak points and openings in your foundation's walls. These include corners, edges of basement window frames, pour lines, holes for service, pipe penetrations, long spans of wall, and tie rods in your foundation. If you find a crack, check on it regularly. If you suspect that the crack is moving, spreading, or widening, the fatigue on your basement walls is increasing and your best move is to contact us at Americrawl ASAP for foundation repair solutions in Central Indiana and throughout our Midwest service area.
Foundation Repair F.A.Q.
How do you fix a sinking foundation?
For a sinking foundation, first, we will want to examine the root cause to stop the sinking. It can be caused by soil erosion or other weathering. For a permanent solution, most homeowners put in piers. These are steel posts, which are driven into the ground surrounding your home and then attached to your foundation using a steel bracket. They are backed by a lifetime warranty for added peace of mind.