Concrete Wall Covers Waterproofing in Indianapolis & Central Indiana
At Americrawl, we're dedicated to safeguarding your basement from water intrusion and potential damage. Our comprehensive basement waterproofing solutions extend to all basement wall systems including concrete wall covers. Whether you're facing leaks, seepage, or dampness, our skilled team employs advanced techniques to ensure a dry and secure environment.
Our waterproofing goes beyond expectations, shielding your basement and enhancing the durability of your concrete wall covers. Our customized method will save up to 50% of your cost. For residents in Alexandria, Noblesville, Frankfort, and surrounding cities within Indianapolis & Central Indiana, we offer a free written estimate and inspection. Still have queries? Don't hesitate to call us at 463-218-6767 right away.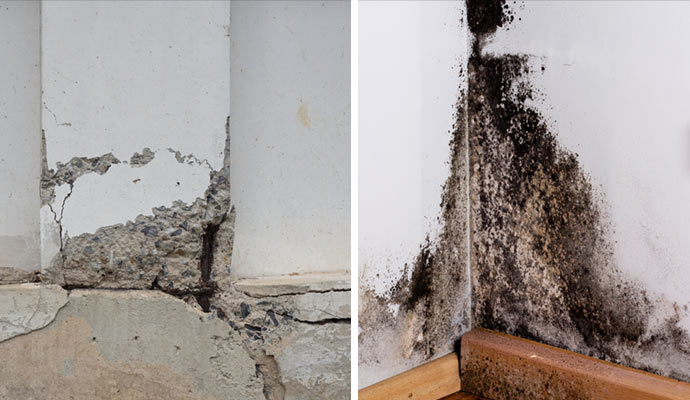 Water Intrusion in Your Basement System Is A Concern
Water intrusion poses a significant threat to your property's structural integrity and your peace of mind. A simple crack or leak in concrete wall cover, concrete blocks or uneven stone walls can cause severe damage to your property. Addressing this concern is crucial to maintaining a safe and dry environment. If you ignore a crack or leak, the following consequences you may encounter:
Foundation Damage: Unchecked water intrusion can weaken your property's foundation, leading to costly repairs.
Mold and Mildew: Moisture creates an ideal breeding ground for mold and mildew, posing health risks.
Interior Damage: Water can seep through walls, causing unsightly stains, peeling paint, and compromised aesthetics.
Decreased Property Value: Water-related issues can negatively impact your property's resale value.
Ready to Experience Lasting Peace of Mind? Contact Us Today!
With a commitment to integrity and a legacy of serving Indiana since 1993, Americrawl is your trusted partner for reliable basement waterproofing, sump pump, crawl space, and moisture control services. Our services come backed by a transferable lifetime warranty, ensuring that your investment is protected for years to come. Whether it's addressing home improvement needs or ensuring long-term security for your property, our expert team is here for you. Don't wait any further! Call 463-218-6767 or click here to schedule an appointment right away.