Basement Waterproofing & Crawl Space Repair in Greenfield
The dampness and leakage of a crawlspace or basement can cause a number of issues for businesses and homeowners in Greenfield, Indiana. A damp and leaky basement or crawl space can cause a host of problems. Americrawl is here to help.
Our basement waterproofing services are second to none. We offer free estimates and can save you up to half the cost of other methods. Whether it's preventing moisture intrusion, enhancing structural integrity, or improving indoor air quality, trust us to be your partner in achieving a better home. Our attention to detail makes us the leading company in this industry.
Moreover, Our basement waterproofing system comes with a lifetime transferable warranty. Do you still have any questions? For more information on our services, call 463-218-6767 right away.
Additional Services We Offer
Since 1993, we reputedly served our customers with top-notch and reliable services. We use advanced equipment to serve better and fast. Apart from basement waterproofing and crawl space repair, our range of services includes:`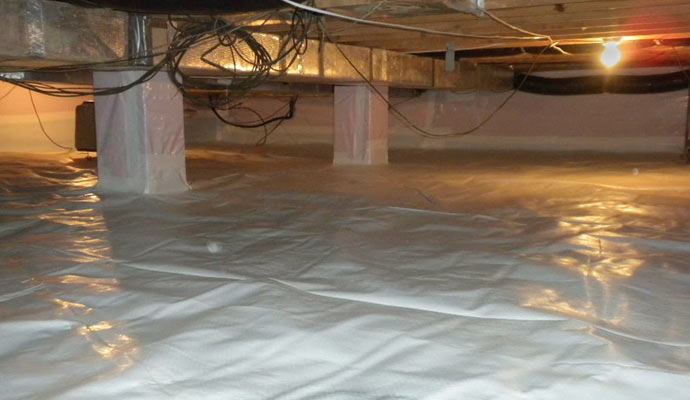 Is Your Crawl Space in Greenfield Getting the Attention It Needs?
Often overlooked, the crawl space plays a crucial role in maintaining your property's health and structural integrity. Neglected crawl spaces can lead to a range of issues. Don't let this vital area go unnoticed – consider the following:
Moisture and Mold: Damp crawl spaces create an ideal environment for mold growth, which can spread throughout your home.
Structural Impact: Neglected crawl spaces can lead to sagging floors, deteriorating insulation, and other structural problems.
Indoor Air Quality: Air from crawl spaces can carry allergens, pollutants, and odors into your living spaces.
Count on Americrawl for Basement Waterproofing Issues
Basement waterproofing is a critical aspect of maintaining a dry, secure, and functional living space. From minor dampness to major flooding, a range of issues can compromise your basement's integrity. We offer a comprehensive service to tackle these challenges, including:
Whether you need a basement or crawl space solution, dial 463-218-6767 or click here to schedule an appointment.