Basement Flooring in Indianapolis & Central Indiana
Basement flooring needs the moisture protection of water-resistant sealant. It should be part of a larger basement waterproofing system that protects your basement from any water intrusion by your foundation or surrounding soil.
Because a basement is susceptible to moisture from the concrete below, Americrawl installs water-resistant basement flooring that provides a moisture barrier. Americrawl installs stunning basement flooring that's also dry, durable and comfortable.
Count on Americrawl for the most professional basement flooring solutions, as well as your basement waterproofing needs. Call us at 463-218-6767 or contact us online to learn more and arrange consultation with one of our design experts. We assist customers in Indianapolis, Beech Grove, Clermont, Avon, and throughout our IN service area.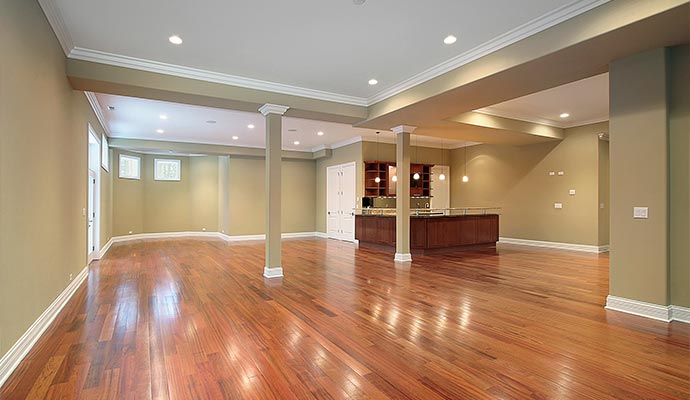 Americrawl Has Basement Flooring Options in Bloomington & Southport
Our basement flooring solutions result in a warm, pleasant, and long-lasting surface. Basement floors are often made of hard, chilly concrete. Because concrete is permeable, ground moisture seeps upward and contributes to basement humidity.
Moisture gathers between traditional flooring materials like carpeting, chipboard, wood and a concrete basement subfloor. This absorbed moisture can result in mold, decay, and musty odors.
To upgrade and waterproof your basement flooring, call us at 463-218-6767 or contact us online. We provide free estimates in Indianapolis, Beech Grove, and the surrounding Indiana or Michigan areas.