Install Footing Drains in Properties across Central Indiana
The footing drain in general is the exterior drainage system built along with the foundation wall. The main purpose of installing a footing drain is to divert the water away from the foundation wall and keep the basement and crawl space dry. Thus, your property structure is protected from foundational damages. The footing drains around the foundation can be both exterior and interior. The interior footing drain is long-lasting, and used for waterproofing or damp-proofing the foundation. On the contrary, the exterior footing drain helps to prevent flooding and other residual water damage. Americrawl is here to bring you extraordinary solutions in order to improve your residential and commercial properties. Our company helps to install footing drains to secure your house or office buildings from any hazardous situations.
We serve the areas of Meridian Hills, Brownsburg, Clermont, and nearby regions of Indianapolis. To get our services, call us now at 463-218-6767. We are also accessible online. Just go visit the link and submit the application.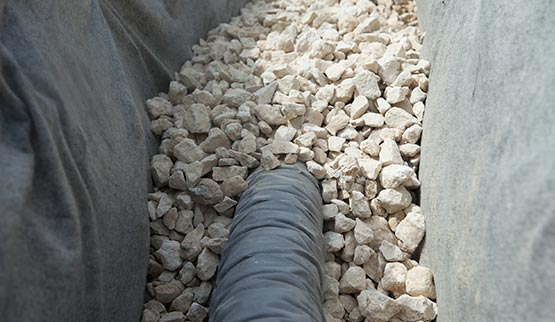 Interior vs. Exterior Footing Drainage
The footing drains work to capture the rainwater and carry it away from the property structure. It helps to dry out the basement and crawl space areas so that the foundation can stay secure.
The interior footing drains work best with the sump pump. It is the best solution to extract water from walls and ground soils and keep the basement dry. On the other hand, exterior drains require soil excavation. The landscaping, driveways, sidewalks, or decks can be disruptive while installing the exterior drainage system.
Protect Your Residence by Installing Footing Drainage | Americrawl
Our company has been founded in 1993, keeping the legacy of our ancestors, we are providing standard solutions constantly to improve your property with upgraded technologies. Our technicians are well trained. They have endured our company motto which is integrity, quality, and satisfaction. Our methods are hence-proved and provide you Lifetime Transferable Warranty with most installations. We bring you professional drainage system service that includes Sump Pump Installation, French Drains Services, Crack & Leak Repair, and others.
To book any of our services, you can make a call to us at 463-218-6767 or, you can just visit the link here to get an appointment online.