Piles for Foundation Repair in Indianapolis & Greenwood, IN
Foundations are a crucial part of any building and any issues with them can lead to serious problems such as structural damage, settling, cracking, and more. Poor soil conditions, changes in moisture levels, and other factors can all contribute to foundation instability. When this happens, it is important to take action to repair the foundation and prevent further damage.
This is where Americrawl's foundation stabilization services, including pile installation, come in. Piles are a reliable and effective solution for foundation repair, as they transfer the weight of the building to a deeper, more stable soil layer. By installing piles, Americrawl can provide long-term support for the building and help to prevent further damage. With our expertise and experience, we can provide a customized solution for each individual case, ensuring that the building's foundation is stable and secure. Call us at 463-218-6767 to learn more about our services.
Stabilize Your Foundation, Secure Your Home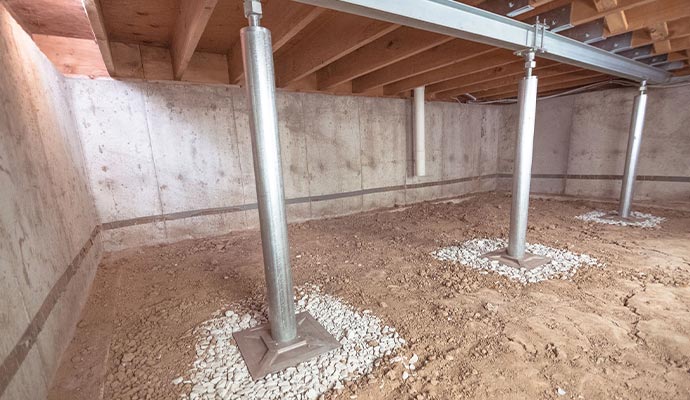 Foundation stabilization is crucial for the health and safety of your home. It helps to improve the stability and support of your building's foundation, preventing further damage and ensuring the long-term stability of the structure. Here are a few key benefits of foundation stabilization:
Prevents structural damage: By improving the stability and support of the foundation, foundation stabilization can help to prevent cracks, settling, and other forms of structural damage.

Protects your investment: Your home is likely one of the biggest investments you'll ever make. By stabilizing the foundation, you can protect that investment and ensure that your building remains safe and secure for years to come.

Increases safety: A damaged foundation can pose a serious safety risk to those inside the building. Foundation stabilization helps to ensure that your home is safe, giving you peace of mind.
Expert Foundation Stabilization Services from Americrawl
Don't wait for foundation problems to worsen and put the safety of your home at risk. Take action now with the help of Americrawl's expert foundation stabilization services in Batesville, Wilkinson, Clinton, and nearby cities. With pile installation and other structural stabilization methods, we'll help to protect your investment, and increase the value of your property. Contact us today to learn more and call 463-218-6767 to schedule your foundation stabilization services.