Basement Waterproofing & Foundation Repair in Huntington
Huntington's weather can be unpredictable, with heavy rains and changing seasons. Damp basements and compromised foundations are the common issues that Huntington's homeowners mostly encounter.
We at Americrawl offer basement waterproofing and foundation repair services throughout the Huntington area. Our basement waterproofing solutions are designed to keep the lower levels of your house dry and safe.
We address structural issues, ensuring your home's foundation is stable and secure. Our certified specialists employ industry-standard methods that will save you 50% of your money. Moreover, we offer free inspection and estimate. So, give us a call at 463-218-6767 to schedule an appointment for our superior services.
Additional Services Americrawl Offers
With our basement waterproofing and foundation repair, you can enjoy the peace of mind knowing that your home is well-protected, stable, and comfortable for you and your family. Besides, our other services in Huntington include: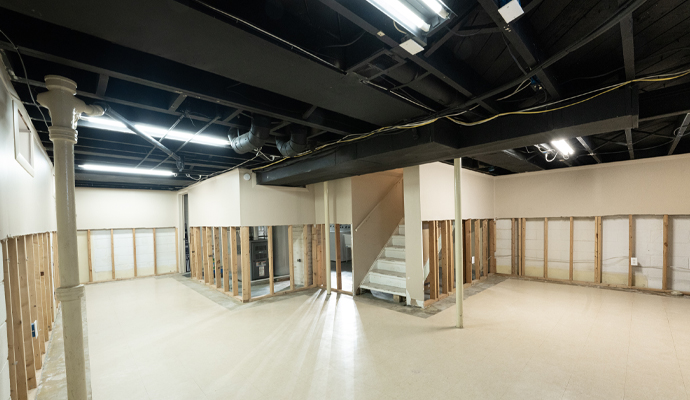 Why Does Crawl Space Need Special Attention?
Crawl spaces are often hidden beneath our homes. They're out of sight, but they still play an important role in maintaining a stable and healthy living environment. Here are some reasons crawl spaces need special attention.
Moisture Control: Crawl spaces are vulnerable to moisture intrusion, which can cause mold growth, rotted wood, and structural damage.
Indoor air quality: Your crawl space's air can affect the air quality of your home. The crawl space may contain moisture, mold, and pests.
Energy Efficiency: A poorly maintained crawl space can cause heat loss in winter and heat gain during the summer. This can lead to higher energy bills as well as an uncomfortable home.
We are Your Trusted Partner in Huntington for a Comfortable Home
Huntington is a place where you might face unique climates. Our solutions are designed to meet the various challenges that homeowners in the area face. Americrawl is always here to help you. Our state-of-the-art equipment and industry knowledge help us to serve you better. If you have further questions, just dial 463-218-6767 or contact us online.