Dehumidification Services in Indianapolis and Central Indiana
Dehumidification is a common way to eliminate moisture from your basement. The best solution for drying water-damaged basement walls and floors in a house or office is a dehumidifier. For clients in Lafayette, Bloomington, Indianapolis, and other locations within our service region, Americrawl offers excellent dehumidification services. We provide services that protect against difficulties with moisture control, mold, and mildew.

Effective dehumidification services are offered by Americrawl to both residential and business clients. Our qualified technicians are all background-checked and have the necessary training. To learn more about our dehumidification, additional basement waterproofing services, completed walls, sump pumps, foundation repair, and other offerings, call us right now at 463-218-6767 or simply click here to schedule an appointment for services today at your property.
Benefits of Dehumidification Services by Americrawl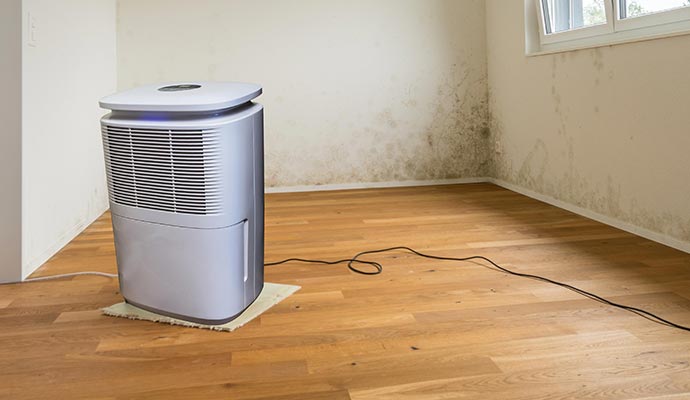 As soon as possible, get in touch with an expert to start dehumidification services since, given the correct environment—a heated, moist climate and accessible materials, particularly porous ones—mold can start to grow almost quickly. You can recover from this pain with the help of dehumidification services. Those are:
Reduced Dust: Dehumidifiers reduce the number of particles and other respiratory allergies.
Comfort: It will improve indoor air quality and make your apartment or business more comfortable by removing excess humidity.
Moisture Control: A dehumidifier eliminates water damage to floors and walls, damaged furniture, and mold growth.
Decreased Electricity Bills: Less strain on your HVAC system from lower humidity means cheaper electric bills.
Deodorizing: When a dehumidifier removes fungi growths that earlier flourished in moist, warm circumstances, musty odors vanish.
Trust Us for Your Dehumidification Services at Home
Americrawl is a reputable company that has a long tradition of providing high-quality dehumidification services that make your basement dry and moisture-free all year. To improve your comfort and indoor air quality, let us manage the moisture levels in your basement. Call 463-218-6767 or contact us online to reserve our services.