Leaking Window Well Repair in Indianapolis & Central Indiana
Leaking window wells can be a persistent and damaging issue for homeowners, causing water infiltration into basements and compromising the structural integrity of a property. If overlooked, this problem can lead to a range of concerns that affect the home's foundation and the well-being of its occupants. That's where we step in!
Since 1993, Americrawl has been the name of the trust for any leaking crack repair services including leaking window well repair in Alexandria, Bloomington, Frankton, and throughout the Indianapolis & Central Indiana area. We follow a well-researched method which will save you money up to 50%. Our basement waterproofing experts have years of experience so that you can stay assured about quality service. If you have further queries, just give us a call at 463-218-6767.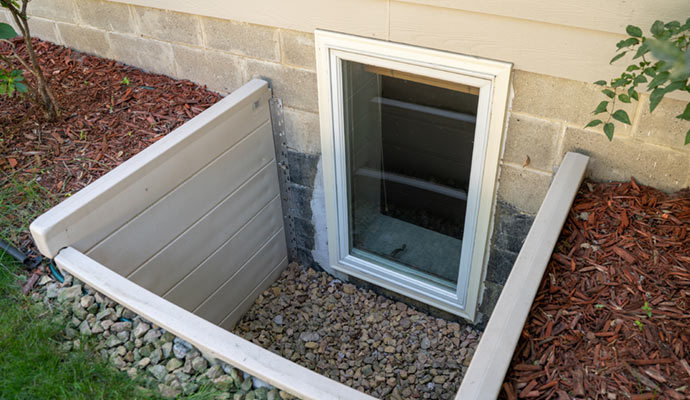 Hidden Dangers of Leaky Window Well
Leaking window wells might seem inconspicuous but can lead to serious problems. Here are the hidden hazards you should be aware of:
Structural Compromises: Persistent water infiltration weakens the foundation and rise the risk of potential foundation damage.
Mold and Mildew Growth: Damp conditions create an ideal environment for mold and mildew.
Health Implications: Mold spores from window wells can trigger allergies and respiratory issues.
Water Damage: Leaks can cause water damage to interior spaces, leading to stains, deterioration, and peeling paint.
Pest Infestations: Moisture attracts pests like insects and rodents, which can further damage your home and belongings.
Potential Flooding: Excessive leaks can result in basement flooding during heavy rains, causing extensive damage.
Don't Let Cracks Damage Your Valuable Property
It may not be possible always to look after the cracks, holes, and other basement issues. Over time, the basement becomes exposed to various issues. Prompt action is necessary to avoid severe damage. We at Americrawl pay attention to detail and prepare and restore your basement system swiftly and more effectively. We also offer free written estimates and inspections to our clients in Indianapolis and Central Indiana. Don't hesitate to call us at 463-218-6767 or click here to schedule an appointment.