Sump Pump Services in Indianapolis, IN
It's vital to prevent excess water from accumulating in areas like your home's crawl space or basement, as it can cause damage to the structure. Installing a sump pump is necessary to avoid water damage or flooding. A dry basement ensures safe living, peace of mind and prevents potential issues during the rainy season or any other time of the year.
Since 1993 Americrawl has been providing services across big cities in Indiana, including Carmel, Greenwood, Bloomington, Lawrence, and other service areas with reputation and trust. Our licensed contractors are always available to come up with the best services for basement waterproofing, foundation repair, etc, for your home.
Call us at 463-218-6767 today for the services related to the sump pump. Click here to send us a service request online.
Why is a Sump Pump Important?
The primary purpose of a sump pump is to prevent excess moisture from accumulating in the lowest part of your home. However, it also helps maintain the freshness of your basement by preventing water from seeping into your home structure and ensuring no dampness lingering around. With a sump pump, you can enjoy a comfortable and well-ventilated basement. Here is why a sump pump is essential: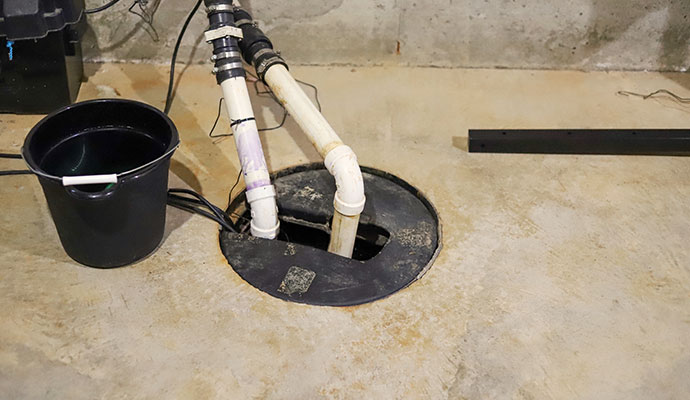 A sump pump prevents flooding by collecting excess water that may seep into your home's foundation.
The sump pump helps prevent mold growth and promotes a healthier indoor environment.
It blocks humidity-related problems like musty odors, peeling paint, and warped wood.
A sump pump helps protect a property's structural integrity, potentially saving you from costly repairs.
Sump pump enhances the overall value of a home and the homeowner's peace of mind.
A basement that is kept dry prevents the growth and spread of mold and mildew on walls and ceilings, which is beneficial for both the occupants' health and the home structure's stability. Utilizing a professional sump pump service for repairs or maintenance can eliminate the risk of damage to your home.
Contact Us Today for Professional Sump Pump Services
At Americrawl, a family-owned and operated business, we provide reliable sump pump installation and other services. Our top priorities are our customers' satisfaction, quality, and integrity. You can count on us to always prioritize our commitment to you. Prevent water damage and other related inconveniences in your basement. Dial 463-218-6767 today, and our professional team will do the rest. Click here to send us an online service request. Check out our other services: moisture control, commercial services, etc.