Crawl Space Sump Pump Installation in Central Indiana

Since you don't go into your crawl space often, you need to set up a sump pump system to alert you when a plumbing leak occurs. The SuperSump® sump pump, designed specifically for wet crawl spaces, will address these needs and keep water out of your crawl space in Indianapolis, Carmel, Fairland, Fort Wayne, and other cities throughout our service area.
The SuperSump® Features: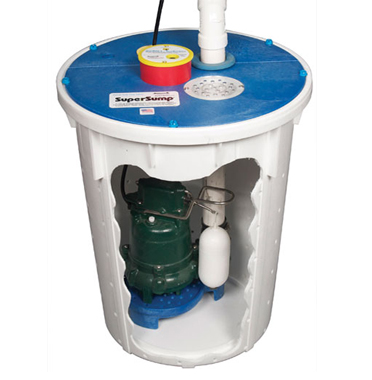 The water flows down a special airtight floor drain that routes the water down but doesn't allow damp air to evaporate up into the crawl space.
A unique two-piece, airtight lid design, so water from a plumbing leak first fills an alarm pocket on the lid
Includes a WaterWatch® alarm that will let you know there is a leak.
The WaterWatch alarm also alerts you to pump failure for any reason, including power outages.
A high-quality, 1/3 horsepower cast-iron Zoeller sump pump with an automatic float switch.
In addition, the SuperSump®'s cover and unique sump liner are specifically designed to accept the CleanSpace Encapsulation vapor barrier system for an airtight seal. The special CleanPump Stand keeps the pump out of any silt and sediment that may wash into the sump liner. To learn more or to get a free estimate, give us a call at 463-218-6767 or click here to make a service appointment today.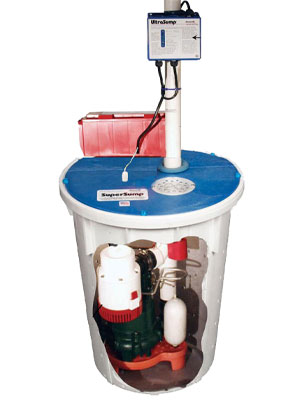 Optional Battery Backup Sump Pump Protection
The SuperSump® is available with or without an optional UltraSump Battery Backup pumping system. The UltraSump has a second pump in case of primary pump failure, as well as a second switch and second power source in case of power failure.
From the energy stored in the special-sealed, long-term standby battery, the UltraSump can pump over 8,000 gallons of water out of your crawl space. There is an exclusive charging system that keeps the battery charged when it's on, and an alarm to tell you the secondary pump is operating. This protection is optional but highly recommended.
Let Us Install Your Sump Pump in Indianapolis
To keep water, moisture, and mold elements out of your crawl space and your home, you can rely on the proven professionals at Americrawl to install a crawl space sump pump system. Give us a call today at 463-218-6767 for a free estimate for any of our crawl space solutions in Central Indiana or click here to make an appointment with a technician today in Indianapolis or one of the other cities that we serve.