Foundation Repair Methods in Indianapolis & Fort Wayne, IN
Homeowners or business owners should always monitor foundation problems if they suspect movement or structural issues. Lack of timely action can result in further damage and unforeseen repair costs such as windows, doors, paint, plaster, etc. Major structural issues can push foundation repair costs through the roof.
Americrawl is the foundation repair provider you need in Central Indiana for cracked foundation walls and foundation floors, slanted floors, bowing walls, foundation settling, or difficulty opening doors or windows. Our advanced foundation repair methods deliver the best results, customer service, and your complete satisfaction. Contact one of our Americrawl foundation specialists for an inspection and free, no-obligation estimate. Call us today at 463-218-6767 or contact us online learn more and arrange a consultation with an Americrawl representative.
Reliable Foundation Repair Methods By Americrawl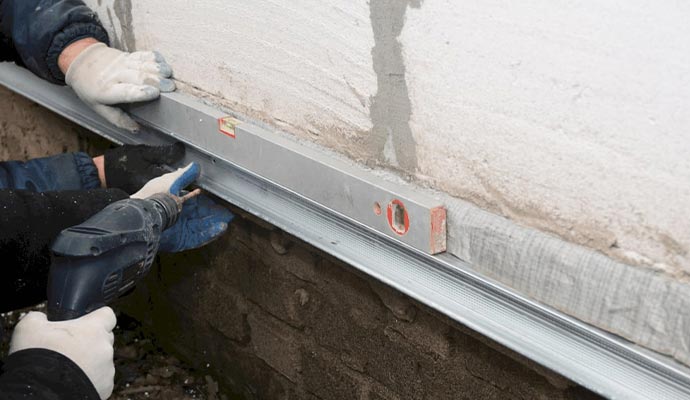 Americrawl offers various foundation repair methods to achieve effective solutions when foundations sink, settle, bow, fail, or crack. These methods include:
Push piers: These concrete piers coated with galvanized steel employ a hydraulic jack system. The piers are driven beneath the foundation until they reach firm soil, at which point they are used to raise the foundation back to its optimal position.
Concrete piers: Reinforced concrete piers are drilled with several cylindrical holes at a reasonable depth beneath the foundation. The foundation is raised back up using support from the firm earth beneath.
Helical piers: Steel helical piers have more anchoring points. The additional anchorage offers stronger support to hold the foundation's weight and stabilize it from the ground up.
Polyurethane foam jacking: Holes are drilled into affected areas, where polyurethane foam material is injected. The material expands, strengthening loose soil underneath and raising concrete to a suitable elevation.
Slabjacking/mudjacking: This technique utilizes a mixture of water and solid material injected into holes drilled into affected foundation areas. The mixture compacts loose soil and lifts the foundation.
Trust Americrawl For Most Reliable Foundation Repair Methods in Bloomington
For foundation difficulties, rely on the certified professionals at Americrawl for the most effective foundation repair methods. We assist customers in Anderson, Richmond, Lafayette, Lebanon, and throughout our Central Indiana service area. When you need foundation repair solutions, we're ready to deliver the best results, customer service and your complete satisfaction. Call us today at 463-218-6767 or contact us online learn more and book an appointment with an Americrawl team member.