Old Crawl Space Access Replacement in Indianapolis, IN
Access to your property's plumbing, electrical wiring, HVAC, and insulation through the crawl space is essential. However, your crawl space access may become outdated and require replacement over time. If left unaddressed, it may lead to difficulties entering the space or fixing other issues. To avoid these problems, rely on dependable experts at Americrawl. Our team will thoroughly inspect your crawl space and provide the best solution. Don't wait until it's too late – contact us today.
Our company provides property owners free estimates in Indianapolis, Lafayette, Bloomington, and other cities throughout our service area. Call us today at 463-218-6767 or contact us online to learn more and arrange a consultation with our representative.
Sign That You Need Old Crawl Space Access Replacement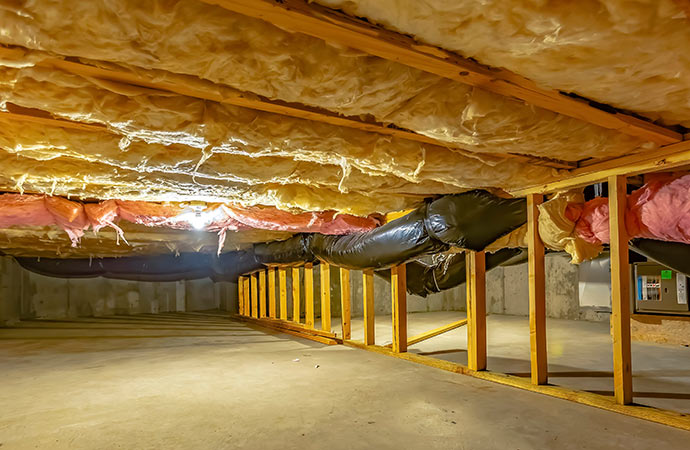 Water Damage: When water seeps into the crawl space through the access point, it can lead to the growth of mold, rotting of wood, and damage to the structure. Therefore, it's vital to have an access system that functions properly and keeps water out.
Pest Infestations: An old or poorly sealed crawl space can provide an entryway for pests such as rodents and insects to infiltrate your home. This invasion can cause significant damage and disruption to your living space. Ensuring your crawl space is adequately sealed is crucial to prevent unwanted guests from entering.
Air Leaks: An access door that is damaged or ill-fitting can result in outdoor air entering your crawl space, which may cause moisture problems and potentially impact indoor air quality.
Difficulty Opening or Closing: If the access door is difficult to open or close, it may be due to its age or warping. A well-functioning access system should be simple to use.
Safety Concerns: It's important to note that older crawl space access areas may have safety concerns, including loose hinges or rusty components that may need to be addressed for safety purposes.
Increased Utility Bills: An inadequately insulated or sealed crawl space can cause higher heating and cooling expenses by enabling temperature exchange with the external environment.
Click Here to Contact Us Online