Entryway Drainage Installation in Indianapolis & Central Indiana
Count on Americrawl, Inc. for installing entryway drainage in Indianapolis & Central Indiana. We provide all types of basement waterproofing and drainage solutions, performed by our experienced professionals. Our skilled team of experts stays with you from start to finish, ensuring quality service and effective system.
Get the Perfect Drainage for Your Beloved Home!
Entryway drainage systems capture water before it can enter a building. Our team will install and check the system's functionality and ensure you have a fully effective drainage system. We offer functional drainage systems to drain water that could damage your basement.
Causes of Basement Leaks
Excavation & Backfilling: During the establishment of a basement foundation, a portion of soil is removed to make the space needed for the construction. Upon completion of the basement, the soil is backfilled against the wall of the basement. This soil is much looser and more permeable to water than the soil that has remained untouched. This soil will absorb more water on rainy days, increasing the chances of water seeping through the basement wall.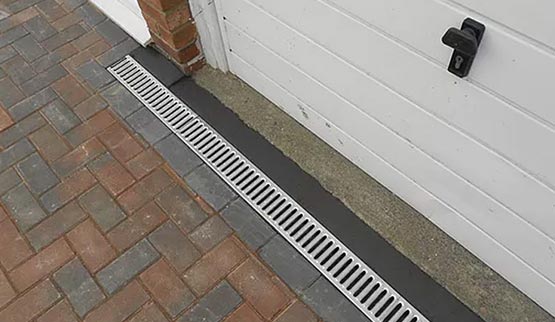 Wall-Floor Joint: A small gap is usually created intentionally between the floor and the wall to prevent cracks from forming in the floor. Water under high pressure can penetrate this gap and seep in through the foot of the basement.
Clogged Footing Drain: Footing drains can sometimes be crushed during the backfilling process. Moreover, footing drains clog over time due to particles in the soil and become ineffective in the drainage of the water. The water then finds its way into the basement through small openings and gaps.
Leak in the Basement Wall: Various types of blocks used in the basement foundation have various chances of leaking. For instance, stone wall joints can weaken under immense pressure from the water, and create small gaps through which water can enter; same happens with concrete block walls.
Why Americrawl, Inc. for Basement Waterproofing?
Americrawl, Inc. adheres to simple guidelines of respect, integrity, and responsibility. Our certified technicians will arrive promptly for appointments, perform the work that we are contracted to do, and stand behind our warranty. Contact us online or call 463-218-6767 to know more about our services in Indianapolis, Beech Grove, Meridian Hills, Clermont, Speedway, and other parts of our service area.
Savings of up to 50% over other methods
A transferable lifetime warranty for basement waterproofing systems
concrete and dirt crawl space solutions
Finished and unfinished basement waterproofing
Settling foundation repair using foundation piers and wall anchors
Free written estimates and inspections, and fast installation