Concrete Block Waterproofing in Indianapolis & Central Indiana
Water intrusion is a serious threat to basements, especially those with concrete blocks as basement wall systems. Concrete blocks are porous, making them susceptible to moisture seepage. This can lead to mold growth, structural damage, and deterioration. Unaddressed leaks or waterways can weaken the foundation, compromising the stability of your property. Concrete block waterproofing is a great way to protect your property from these dangers. 
We at Americrawl understand how important it is to protect your basement system against water damage. Our basement wall system experts ensure that your basement is free from moisture and other moisture-related issues. We are available in Frankfort, Huntington, Union City, and nearby cities within Central Indiana and Indianapolis. We offer free written estimates to our clients. Don't wait any longer! Give us a call at 463-218-6767 to schedule your free inspection. 
Benefits of Concrete Block Waterproofing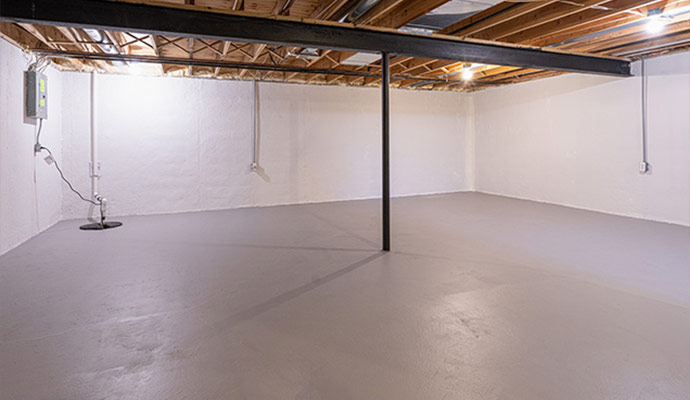 Concrete block waterproofing has many benefits that extend beyond the surface level of protection. Here's why our specialized waterproofing service is essential for your property:
Enhanced Structural Integrity: Concrete block waterproofing strengthens your property's foundation, guarding against water-induced deterioration.
Preventing Mold and Mildew: By creating an air barrier, you can reduce the chances of mold and mildew growing, and promote a healthier environment.
Preserving property value: Waterproofing your foundation will ensure the longevity of your home.
Cost savings: By avoiding potential water-related damage, you can save on repairs, contributing to cost-effectiveness over the long term.
Improved Indoor Air Quality: Reducing moisture infiltration improves indoor air quality and benefits the well-being of occupants.
Rely on Americrawl for Any Basement Waterproofing Issue
When it comes to basement waterproofing, Americrawl stands as your trusted partner, offering effective solutions that address a wide range of concerns. With savings of up to 50% compared to other methods, we make quality waterproofing accessible without compromising your budget. What's more, our commitment to excellence is backed by a transferable lifetime warranty for your basement. Apart from this, our other services include:
Dial 463-218-6767 today to schedule a free inspection. To learn more about our services contact us online.