Foundation Pier Systems in Indianapolis & Greenwood, IN
Soil moisture, shifting, contracting or drying outside your foundation can exert various forces on foundation walls or foundation floors. Cracking or settling can take a toll on your home's foundation, as well as inflict structural damage throughout your property.
Foundation pier systems stabilize, lift, support, and repair failing foundations. Concrete slabs and unstable areas beneath foundations benefit from these systems, and Americrawl has the most professional, reliable foundation pier system installation available across our Indianapolis service area.
Our exceptional foundation pier and foundation repair solutions provide relief for settlement issues, slanted floors, structural problems, and more. Call us today at 463-218-6767 or contact us online to learn more and arrange a consultation with an Americrawl representative.
Superior Pier Systems By Americrawl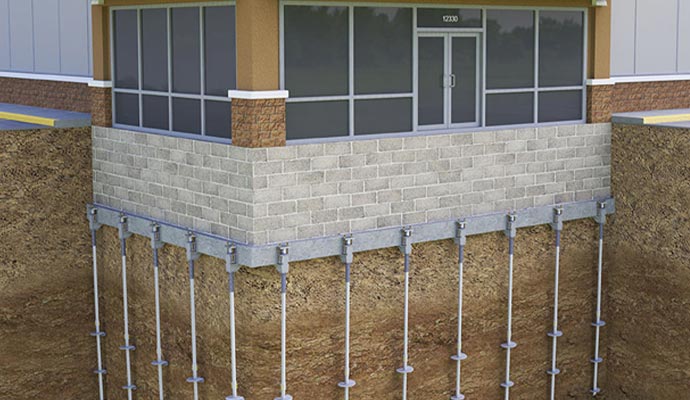 Americrawl offers various options for foundation pier systems that provide relief for foundation cracks, settling, sinking, bowing, and more. Pier systems we offer include:
Concrete piers: Reinforced concrete piers are drilled with several cylindrical holes at a reasonable depth beneath the foundation. The foundation is raised back up using support from the firm earth beneath.
Push piers: These concrete piers coated with galvanized steel employ a hydraulic jack system. The piers are driven beneath the foundation until they reach firm soil, at which point they are used to raise the foundation back to its optimal position.
Helical piers: Steel helical piers have more anchoring points. The additional anchorage offers stronger support to hold the foundation's weight and stabilize it from the ground up.
Make Americrawl Your Foundation Solution with Pier Systems in Fort Wayne, IN
Americrawl has the professional resources, expertise, and pier systems to eliminate your foundation settlement issues. Loose foundation soil moves and shifts, but our foundation piers hold firm. For effective foundation settlement problems in Indianapolis, Alexandria, Muncie, Bloomington, New Palestine, and throughout our IN service area, count on Americrawl. Call us today at 463-218-6767 or contact us online to learn more and book an appointment with an Americrawl team member. Ask about our free, no-obligation estimates.