Crawl Space Vapor Barrier in Indianapolis & Central Indiana
Problems can sometimes arise in the crawl space beneath your house. Frequent standing water can lead to crawl space moisture buildup, making indoor humidity levels too high and your crawl space or basement too damp. To avoid this or subsequent structural water damage or mold growth, installing a crawl space vapor barrier is a common, effective solution.
Crawl space vapor barriers act as a moisture blockers to protect homes and workplaces from water damage and high humidity levels. Ground moisture buildup in crawl spaces is halted or greatly reduced. We assist customers with vapor barrier installation in Indianapolis, Lafayette, Bloomington, and throughout our IN service area as part of our long-time crawl space repair, maintenance and upgrades. Call us at 463-218-6767 or contact us online to learn more and arrange a consultation.
Why Vapor Barriers By Americrawl in IN?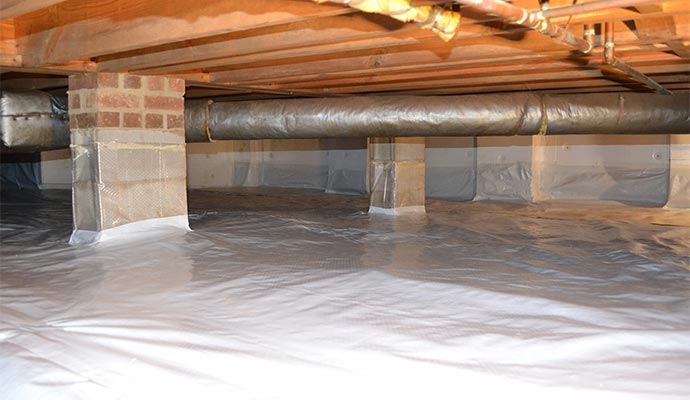 For the driest, most moisture-blocked crawl spaces available, the professionals at Americrawl install superior, reliable vapor barriers that provide:
Indoor comfort: A vapor barrier helps keep your indoor environment comfortable by preventing moisture from getting inside.
Mold prevention: Because moisture is the primary source of mold formation, contamination can be avoided or reduced with vapor barriers.
Energy-efficient: With regulated indoor humidity, your HVAC system will run more efficiently and affordably.
Eliminate harmful gases: Vapor barriers block any harmful gases such as radon in soil or stagnant water vapor from penetrating your crawl space.