Crawl Space Drainage Repair in Indianapolis & Central Indiana
Standing water in a crawl space is neither clean nor hygienic. Without a crawl space drainage system, or with one that's badly in need of repair, a flooded or wet crawl space is nothing but trouble. Foul odors, unclean water, potential mold growth, damaged surfaces or plumbing, and pests need to be eliminated.
For flooded crawl space or drainage repair issues, seek professional help from Americrawl. A contaminated crawl space can adversely affect your indoor air quality and create other health hazards. Humidity levels are difficult to regulate when a crawl space can't be waterproofed.
For crawl space drainage repair or installation needs in Indianapolis, Lafayette, Bloomington, and other cities throughout our our IN service area, don't hesitate. Call Americrawl at 463-218-6767 or contact us online to learn more and arrange a consultation for our crawl space drainage repair options.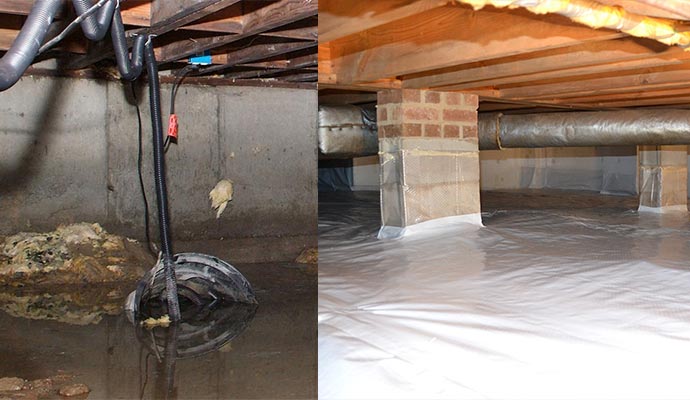 Why Americrawl for Crawl Space Drainage Repair?
A damp crawl space isn't natural or worth ignoring, even though it's at underneath your home at a below-grade level. As seasons and weather patterns vary, the ground becomes moist and dry. Standing water can lead to rot, mold, energy loss, and attract pests. These problems aren't restricted to your crawl space.
Upstairs, up to 50% of your indoor air is directly affected by your basement or crawl space. Mold growth, musty odors, humidity, dust, pests and more can degrade your ground-level indoor air quality. A basement or crawl space drainage system installation or repair by Americrawl is necessary for the healthiest possible indoor climate and environment.
Trust Americrawl For Crawl Space Drainage Repair in Danville, IN
If you're ready for crawl space drainage repair or installation, it's time to rely on the specialists at Americrawl. Our professionals use advanced training, expertise and equipment to waterproof and dry your crawl space or basement by repairing your drainage system, efficiently and effectively. We also provide assistance with crawl space or basement dehumidification, sump pump installation, crawl space wood repair or replacement, and more. Call 463-218-6767 or contact us online to learn more and arrange a consultation. Ask about our free estimates.