Foundation Wall Repair in Indianapolis & Central Indiana
Solid foundations are critical to your residential or commercial property. However, persistent moisture or dry soil can cause your foundation walls in Indiana to crack or move, resulting in structural property damage.
When your foundation issue occur, Americrawl will be there to assist. Reach out to our professionals for expert, effective foundation wall repair that's affordable and provides the foundation solutions you need.
Since 1993, Americrawl has tackled foundation problems with reliable expertise and advanced equipment. Stress weakens foundation walls, and soil moisture issues can jeopardize your property's overall structure. Americrawl has the resources to remedy foundation cracks and water leaks, settling problems, and more to preserve or restore your foundation walls. Call us today at 463-218-6767 or contact us online to arrange a consultation with an Americrawl representative. Ask about our free, no-obligation estimates.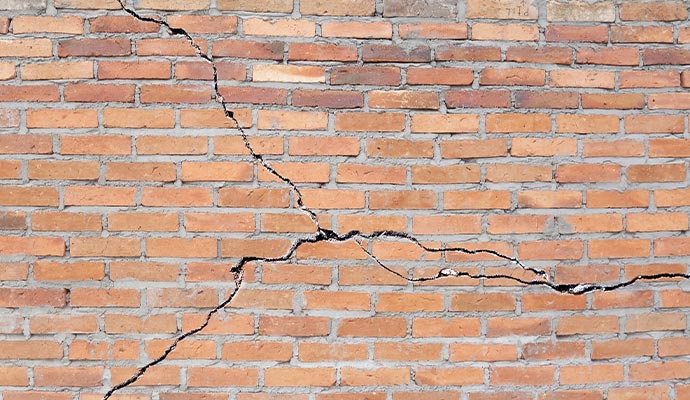 Americrawl Eliminates Threats to Foundation Walls in Indianapolis
Failing foundation walls lower your property values and look unattractive. Severe foundation damage is costly and difficult to repair, as well as restoring foundation walls, ceilings, doors, etc. These cracks include vertical, stair-step, or horizontal damage. Neglected foundations face issues when soil shifts beneath a settling foundation. Drainage issues or leaks exacerbate foundation problems, further weakening foundation walls. Additional foundation threats that likely could prompt a call to the experts at Americrawl include:
Water or moisture problems below foundations
Shifting soil conditions
Foundation cracks
Foundation settlement issues
Let Americrawl Repair & Protect Your Foundation Walls in Central Indiana
Americrawl foundation specialists are ready with superior expertise and reliable equipment to fight your foundation battles. Let us assist with foundation, basement, crawl space, or other waterproofing issues to keep your property structurally sound. We assist customers in Indianapolis, Franklin, Lawrence, Avon, Zionsville, and cities across our Central Indiana service area. We're ready to lend a hand with foundation wall repair and other foundation solutions. Call us today at 463-218-6767 or contact us online to book an appointment with an Americrawl team member. Ask about our free, no-obligation estimates.