Foundation Wall Repair in Indianapolis & Central Indiana
The foundation is one of the critical building blocks of your home. However, there are a variety of reasons that your foundation home or office in Alabama may face cracks.
But when it does, Americrawl will be there to help you. Reach out to our professionals for effective foundation wall repair solutions that meet your budget and needs. Call us TODAY at 463-218-6767 or click here to request a free estimate. 
Since 1993, Americrawl has been providing excellent solutions to tackle foundation problems. Weakened foundation walls due to stress, and soil moisture may put your property and family in jeopardy. But, our team has the resources to remedy cracks, water leakage, settlement issues, and more for your foundation walls.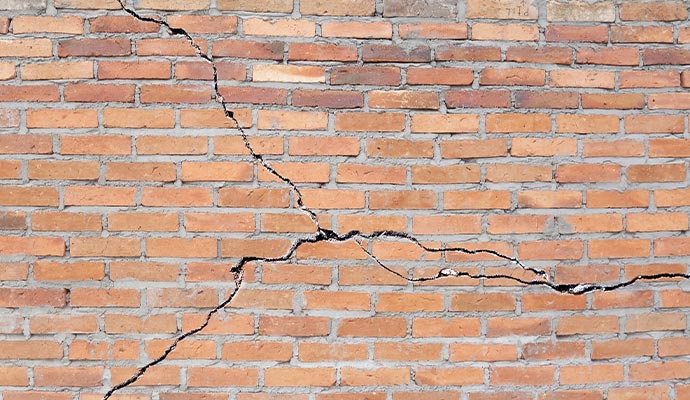 Potential Threats to Your Foundation Walls
A failing foundation wall puts your property and loved ones at risk. Hazardous conditions arise when cracks damage your foundation. These cracks may come in the form of vertical, stair-step, and horizontal cracks. Poorly managed foundations face issues when the soil outside shifts over time as the foundation settles in. Moreover, ill water drainage is also another reason as water moisture weakens the walls gradually and may lead to water leaks.
Additional potential threats to your foundation walls include:
Water & moisture
Shifting soil conditions
Foundation cracks
Foundation settlement issues
Let Americrawl Repair & Protect Your Foundation Walls
The seasoned foundation specialists from Americrawl have the necessary equipment & skill to repair all kinds of problems your foundation may be facing. Moreover, you may have your foundation made waterproof by us to further protect it from future hazards. Our exceptional services are available in Franklin, Lawrence, Avon, Zionsville & other nearby areas in Indianapolis & Central Indiana. 
Taking care of the foundation wall means strengthening the structural integrity of your house. Let experienced professionals lend a hand when you need efficient foundation repair solutions. Give us a call at 463-218-6767 to get in touch with our foundation experts.