Solving The Problem: Crawl Space

---
At Americrawl, years of hands-on experience and aggressive education in crawl space and basement science have resulted in unsurpassed solutions. Our vast storehouse of advanced methods and proven installations provide custom remedies for every foundation imaginable. Patented systems include a Lifetime Transferable Warranty that applies to the home, regardless of ownership change. We look forward to giving your foundation a "physical," and curing your crawl space and basement headaches with an applicable treatment.
Back: Systems & Solutions
Crawl Space Moisture Control & Ventilation in Central and Northern Indiana
Crawl Space Moisture Control
If you're looking for a way to prevent crawl space moisture, you're in luck! We can help!
Protect Your Home From:
Crawl Space Mold
Bugs & Rodents
Structural Damage
Crawl Space Odor
Loss of Storage Space
Rising Energy Costs
If you have a concrete, dirt, damp or musty crawl space in Central & Northern Indiana, North Eastern Illinois,or North Western Ohio, let Americrawl help. We are an authorized Basement Systems CleanSpace dealer in Central Indiana authorized to install the CleanSpace crawl space encapsulation system.
The CleanSpace Crawl Space Encapsulation System includes products that prevent crawl space moisture by encapsulating the crawl space with a vapor barrier, closing the crawl space vents, and conditioning the space -- to make a healthier crawl space and home!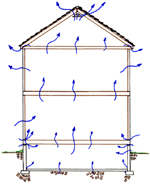 Why is Crawl Space Moisture so Bad?
The problem with a dirt or vented concrete crawlspace is that as warm air rises in your home, it brings up with it the air that was previously in your crawl space, including moisture and mold spores, as well as anything else that may be airborne down there.(See Stack Effect Image on Right)
Dirt crawl spaces, vented crawl spaces, or unconditioned crawl spaces of any type under a home are a very bad idea - and crawl spaces in Indiana and surrounding states suffer big temperature and relative humidity swings through the seasons. The earth has very high humidity in the soil. This humidity or water vapor easily moves into the crawlspace and upwards into the house environment.
As this air rises in your home, replacement air enters from the lowest part, your crawlspace. This replacement air is made up with unconditioned outside air that enters through vents and other leaks, and air that is actually sucked from the crawlspace floor, either dirt or concrete, which is typically filled with lots of moisture. This natural upward air movement is called the "stack effect" -- this is how chimneys work. Consequently, whatever is in the air at the lowest point eventually flows up into the living sections. Up to 40% of the air we breathe on the first floor of our home comes from the crawl space.
A concrete or dirt crawl space with a crawl space vent is a never-ending source of moisture. Even if the dirt's surface seems dry, digging down a few inches reveals moist earth.
Crawl Space Mold, Musty Odors
Moisture leads to mold growth, musty odors, and structural damage, not to mention that insects and critters love moist environments and energy costs are higher. Moisture ruins houses by providing a hospitable environment for mold, fungi, and insects that destroy wood framing. Crawl space moisture, and the mold and mildew that thrive in this environment, affect not only the floor system directly above, but also the entire house.
Three things destroy organic materials in general, and wood in particular: water, heat, and ultra-violet radiation. Of these, water is by far the most damaging... and the one we can control.
A Crawl Space Vapor Barrier System is the Answer
Sealing the crawl space from the earth and outside air is the solution to moisture and dampness in the home. Some crawlspace contractors and homeowners will simply put down a thin, non-UV-resistant plastic liner, like a 6-mil plastic liner. This really has no effect as there's still too much opportunity for air to enter from crawl space doors or hatches, crawl space vents, pipe penetrations, porous concrete walls, the hollow cores of blocks, and various other gaps and holes. The CleanSpace crawl space encapsulation system includes solutions to all these challenges.
Properly sealing the crawlspace and removing the moisture from the ground and air is part of the solution that helps provide a mold-free, radon-free, and insect-free environment, which leads to a more more energy-efficient and healthier home.
To avoid moisture's negative affects, a crawlspace should be completely sealed and isolated from the ground and the humid outside air. An effective method to lower crawl space humidity, the CleanSpace Crawlspace Encapsulation System by Basement Systems Inc.

This crawlspace vapor barrier system involves installing a 20-mil 7-ply sandwich of high and low-density polyethylene with polyester-cord reinforcement on the dirt or concrete floor, that is fastened and epoxied to the walls. This extra-heavy reinforced lining is made especially for this system and is treated with an antimicrobial finish that protects against mold and mildew growth under the crawlspace liner.
Lower energy bills, resulting from reduced crawlspace humidity, translate into comfort and savings year after year. The CleanSpace crawlspace vapor barrier is tough enough for service people to crawl on and safe enough for storage. Being bright white, the CleanSpace liner really brightens a crawlspace too, making it a relatively pleasant storage place.
Have you ever seen a CleanSpace crawl space?
Visit our CleanSpace photo gallery for some examples of our finished work.
Crawl Space Science
What to Have Done … and Why
"Crawl Space Science: What to Have Done … and Why" by Lawrence Janesky. This comprehensive book will give you indispensible knowledge about your crawl space, including the "stack effect" of air flow.
Get a free copy! No strings attached!
Drop us a line on our contact page and we'll send you a free copy.
Does your Crawl Space Leak, or Flood?
CrawlSpace Waterproofing, Crawl Space Drainage Systems
Many crawlspace foundations leak and many crawlspaces flood. Such crawlspaces may require a drainage system.
Americrawl installs the AmeriSystem® CrawlSpace Drainage System specifically designed for crawl spaces that suffer from periodic standing water or crawl space flooding. Americrawl also installs the crawl space sump pump "Smart Sump®(Seen Below) as well as other sump pump systems for your peace of mind. They all feature a built-in WaterWatch sump pump alarm system to let you know if there is ever a pump or power problem before the crawlspace floods.
Just remember that your crawlspace, although often neglected until it's too late, is one of the most important spaces in your home. It can be a spawning ground for mold, bugs, embarrassing odors, and even radon gas. The moisture generated in the crawlspace will lead to structural damage and higher energy costs! On the other hand, a clean, sealed crawlspace can be an extra source for much needed storage while making your home more energy efficient, healthy, and safe for your family.

To learn more about the CleanSpace Crawl space Encapsulation System or other innovative crawlspace solutions, Contact Us, Americrawl your local CleanSpace Installer for a FREE Estimate and Inspection You'll be thrilled at how quickly your crawlspace can be fixed with little or no disruption to your daily routine. The encapsulation system comes with a 25-year CleanSpace warranty against rips, tears & groundwater, and from having groundwater on top of the liner.
SmartSump®
Since you don't go into your crawl space often, you need an alert for when a plumbing leak occurs, and to be assured that the leak is being handled correctly. The SmartSump sump pump, designed specifically for crawl spaces, will address these needs.
The SmartSump has a unique two-piece, airtight lid design, so water from a plumbing leak first fills an alarm pocket on the lid, sounding a WaterWatch® alarm that will let you know there is a leak. From there, the water flows down a special airtight floor drain that routes the water down, but doesn't allow damp air to evaporate up into the crawl space. The WaterWatch alarm also alerts you to pump failure for any reason, including power outages.
The SmartSump crawl space sump pump has a high quality, 1/3 horsepower cast-iron Zoeller sump pump with automatic float switch. In addition, the SmartSump's cover and unique sump liner are specifically designed to accept the CleanSpace Encapsulation vapor barrier system for an airtight seal. The special CleanPump Stand keeps the pump out of any silt and sediment that may wash into the sump liner.
Optional Battery Backup Sump Pump Protection
The SmartSump is available with or without an optional UltraSump Battery Backup pumping system. The UltraSump has a second pump in case of primary pump failure, a second switch in case of switch failure, and second power source in case of power failure.
From the energy stored in the special-sealed, long-term standby battery, the UltraSump can pump over 8,000 gallons of water out of your crawl space. There is an exclusive charging system that keeps the battery charged when it's on, and an alarm to tell you the secondary pump is operating. This protection is optional, but highly recommended.
Crawl-O-Sphere™ Air System
Old Crawl Space Thinking
Dirt floors, vents to the outside, and insulation are old crawl space methods that have failed miserably in providing a durable, effective and safe foundation for homes. Today's technology includes the CleanSpace Encapsulation System that isolates the whole house from the earth and seals off outside air.
Crawl-O-Sphere Air System
Once the CleanSpace Encapsulation is in place, the Crawl-O-Sphere Air System can be installed to draw dry, conditioned air from the first floor of your home and route it to the crawl space. This infusion of improved air keeps the crawl space warm, dry and healthy.
Quiet and energy efficient at just 18 watts, the Crawl-O-Sphere unit is mounted between floor joists and vented via a floor grill atop a round hole cut through the first level floor.
Along with the CleanSpace Encapsulation System, the Crawl-O-Sphere Air System is a low cost way to provide a healthy, energy-efficient crawl space beneath your home that's warm in the winter and dry all year round.
The Crawl-O-Sphere is for homes with central air conditioning. If dehumidification is necessary, than a SaniDry Dehumidifier and Air Filter System should be considered.
Structural Repairs
Wood Component
Repair and Replacement
A critical and costly side effect of an unhealthy crawl space is structural damage to the framing system. The floor joists, girders and sill plate can all be affected to different degrees, depending on the amount of exposure to humidity and insects. This rotting wood condition can result in cracked walls; sticky windows and doors; and sloping, sagging, or uneven floors, as the strength and integrity of the home's support system is chronically compromised. Deterioration has been so significant at times as to allow a home to cave into its foundation.
It can be very costly to perform repairs to crawl space framing, especially since the wood members were originally placed in a sequentially supportive manner. Occasionally a home has to be jacked up in order to access key areas for both the removal and replacement of lumber. Add to this that crawl spaces are generally shallow dirt dugouts strewn with duct work, wiring, plumbing, cross bracing and sometimes already present support piers, and you've got an extremely challenging repair landscape.
Then consider that replacement lumber is long, heavy and unyielding, and that equipment and laborers have to maneuver in a tight, dark, possibly wet spot, and dollar signs start to multiply.
Address The Problem Now
The point is, if you're aware of any soft, crumbling, eroded, moldy or wet-stained wood in your foundation, now is the time to have it evaluated and fixed. It won't get better, and repairing it now will be less expensive than addressing it down the road when conditions have worsened.
But Don't Stop There
Restoring foundation framework to a reliable state will not correct the culprit that caused its downfall in the first place—all the same chemistries are still at work ready to wreak havoc on your new repairs. Only moisture control interventions, such as re-routed drainage systems, sump pumps and CleanSpace Encapsulation, will permanently stop the damaging effects brought about by high levels of humidity and subsequent pest infestation.
Noted by many Indiana home inspectors as the "Cadillac" of wood repairs, Americrawl can address the damage whether it's just a couple feet of sill plate replacement or the entire floor structure.
Americrawl's experts are equipped to turn your failing foundation into one that is rock-solid—and keep it that way! Get in touch with Americrawl today. Contact Us