Collapsed Drain Tile in Indianapolis & Carmel, IN
The majority of drain tile systems have been in use for more than 20 years, and are composed of earthenware pipes that are susceptible to cracking and other sorts of damage. A collapsed drain tile can be a regular occurrence that can quickly become a major issue.
When a drain tile fails to pull water away from a home or basement, it can lead to serious foundation damage and endanger structural integrity. It's essential to recognize this issue quickly. Count on Americrawl, Inc. and our trained, certified professionals to located your collapsed drain tile section and offer solutions in Indianapolis, Beech Grove, Clermont, Avon, and other IN service regions.
If your drain title system is broken, blocked, or collapsed, the skilled drainage professionals at Americrawl provide the most effective drain tile systems available. We use the AkwaGard® system, designed to lie alongside basement flooring and keep it clear of mud and wetter soil (the mud zone) to prevent clogging. Americrawl is only a phone call away from being your No. 1 solution for a collapsed drain tile. Call 463-218-6767 or contact us online to learn more and arrange a consultation.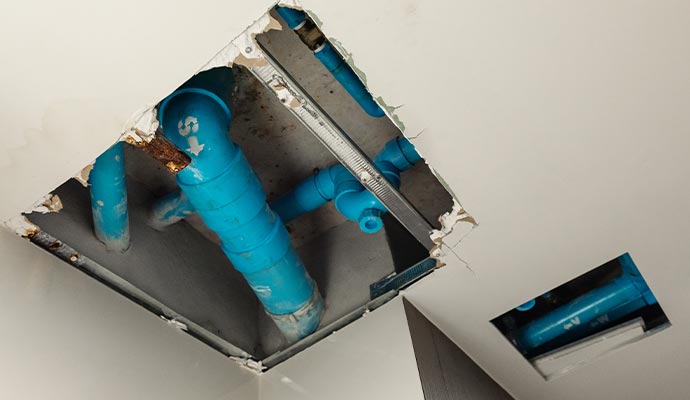 Call Americrawl for Signs of Collapsed Drain Tile Systems in Bloomington, IN
Regular sewage backups or obstructions
Damp walls or floors
Infestation by rodents
Soil erosion
Sewage smell indoors
Sagging floors, cracked walls
Antiquated drain pipes
Tree root intrusion
Freezing and melting of water in the ground
Incorrectly placed pipes
Trust Americrawl For Collapsed Drain Tile Solutions in Indianapolis
Americrawl is a family-owned, licensed contractor, offering free inspections and estimates to customers in Indianapolis and Central Indiana. Count on us for unique solutions for water control and structural concerns at your home or business, including collapsed drain tile systems. We also assist customers with:
Call 463-218-6767 or contact us online to learn more and arrange a consultation.