Wood Component Repair & Replacement in Indianapolis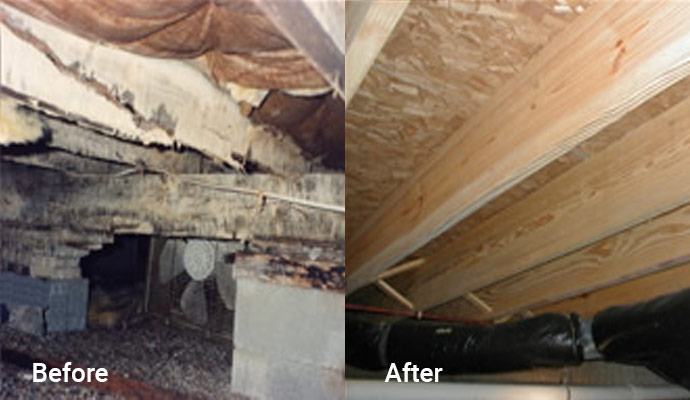 A critical and costly side effect of an unhealthy crawl space is structural damage to the framing system. The floor joists, girders, and sill plates can all be affected, depending on the amount of exposure to humidity and insects. This rotting wood condition can result in many significant issues for the home:
Cracked walls
Sticky windows and doors
Sloping, sagging, or uneven floors
Eventually, the deterioration can lead to the home collapsing its foundation
It can be very costly to perform repairs to crawl space framing, so it's important to select a company that does it right the first time.  Whether it's minor wood repair or your home has to be jacked up in order to access key areas for both the removal and replacement of lumber, the proven professionals from Americrawl are more than able to meet the challenge.
Rely on Us to Repair Your Wooden Foundation in Indianapolis & Central Indiana
Restoring the framework of your wooden foundation is essential when you have dry rot and other issues with any wooden components. However, only moisture control services such as re-routed drainage systems, sump pumps, or CleanSpace Encapsulation will permanently stop the damaging effects on your foundation caused by high levels of humidity in your basement or crawl space.
To get a free estimate, give us a call at 463-218-6767. You can also click here to make a service appointment today for residential or commercial jobs in Indianapolis, Lafayette, Bloomington, Goshen, Noblesville, or any of the other cities within our service area.