Leaky or Flooded Crawl Space Issues in Central and Northern Indiana

Many crawlspace foundations leak and many crawl spaces flood. Such crawl spaces may require a drainage system. Americrawl installs the AmeriDrain® CrawlSpace Drainage System specifically designed for crawl spaces that suffer from periodic standing water or crawl space flooding. Americrawl also installs the crawl space sump pump "SuperSump® as well as other sump pump systems for your peace of mind. They all feature a built-in Water Watch sump pump alarm system to let you know if there is ever a pump or power problem before the crawlspace floods.
Just remember that your crawl space, although often neglected until it's too late, is one of the most important spaces in your home. It can be a spawning ground for mold, bugs, embarrassing odors, and even radon gas. The moisture generated in the crawlspace will lead to structural damage and higher energy costs! On the other hand, a clean, sealed crawlspace can be an extra source for much needed storage while making your home more energy-efficient, healthy, and safe for your family.
Your Solution for Crawl Space Waterproofing & Crawl Space Drainage Systems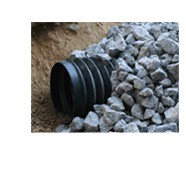 To learn more about the CleanSpace Crawl space Encapsulation System or other innovative crawlspace solutions, contact us at Americrawl, your local CleanSpace Installer in Indianapolis, Lafayette, Bloomington, and other cities throughout our service area, for a FREE Estimate and Inspection or call 463-218-6767.
You'll be thrilled at how quickly your crawlspace can be fixed with little or no disruption to your daily routine. The encapsulation system comes with a 25-year CleanSpace warranty against rips, tears & groundwater, and from having groundwater on top of the liner.