Exterior Drainage System in Indianapolis & Central Indiana
Interior and exterior drainage systems are both effective and convenient for the home. Although many customers prefer exterior drainage systems, from our vast experience we have observed the problems it comes with. Therefore, we suggest our customers to rather go with an interior drainage system Americrawl, Inc. provides the most efficient interior drainage installation services in Indianapolis & Central Indiana.
For several reasons, we advise our customers do not go with exterior drainage systems and we do not handle that installation service. But before you decide, let's explain why we suggest having an interior drainage system instead of exterior.
Comparing Interior vs Exterior Water Drain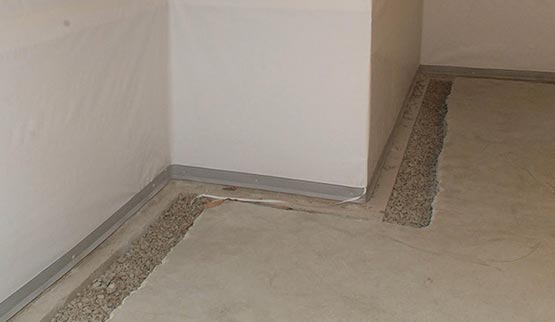 Exterior drainage systems are difficult to access and maintain. If anything goes wrong, it's difficult to identify and correct the issue quickly. The cost of an exterior system might be many times higher than that of an interior system. We encourage exterior drainage systems on existing properties, unless in severe circumstances, because of the costs, the mess, and the difficulties of maintaining such systems. Also, it takes longer to install an exterior drainage system than it does for an interior setup.
Interior footing drains are the most effective remedy for most basements. It's possible to eliminate the slab's edges using this sort of technology. The foundation is then surrounded by a trench that is excavated around the perimeter. Crushed stone is then put over the perforated pipe in the trench to complete the construction. After that, concrete is poured over the trench.
Whatever method you pick, be sure to install drainage throughout the whole basement, even if just a portion of the basement seems to be leaking at a given time. Even if you're confident in your ability to repair your basement, it still better to hire a basement-waterproofing specialist from Americrawl, Inc.
Why Americrawl, Inc. for Basement Waterproofing?
Americrawl, Inc. adheres to simple guidelines of respect, integrity, and responsibility. Our certified technicians will arrive promptly for appointments, perform the work that we are contracted to do, and stand behind our warranty. Contact us or call 463-218-6767 to know more about our services in Indianapolis, Beech Grove, Meridian Hills, Clermont, Speedway, and other parts of our service area.
Savings of up to 50% over other methods
A transferable lifetime warranty for basement waterproofing systems
concrete and dirt crawl space solutions
Finished and unfinished basement waterproofing
Settling foundation repair using foundation piers and wall anchors
Free written estimates and inspections, and fast installation